Hard Floor Cleaning & Polishing
Hard flooring is a popular choice in many commercial buildings due to its long-lasting and hard-wearing properties.  In addition to regular floor cleaning, Commercial Clean Adelaide offers a full range of periodic deep cleaning, polishing and hard floor maintenance solutions suitable for tiled floors, vinyl floors, wooden floors, stone, ceramic, terrazzo and polished concrete floors.
With flooring being one of the most visible areas of a business, you can rely on our team to keep your floors looking great and enhance the reputation of your business.  Regular vacuuming, brushing or mopping of hard flooring is essential but this needs to be accompanied by regular periodic deep cleaning to keep floors looking at their best.  Even over a period of 12 months, regularly mopped floors will start to show a slight haze and grout lines will become darker as dirt and grime builds up over time and adheres to the surfaces.
Strip & Seal hard floors
Most hard floors especially vinyl floors are sealed during the manufacturing process.  With the constant high traffic found in a commercial environment, the seal (protective layer) on a floor can quickly get worn through and create dirty patches and dull the appearance of the floor.  Periodic stripping and sealing of hard flooring cleans and removes hazing, dull spots and scuff marks and restores the protective film over the surface of the floor.  This technique rejuvenates the floor and restores its original lustre and vibrancy.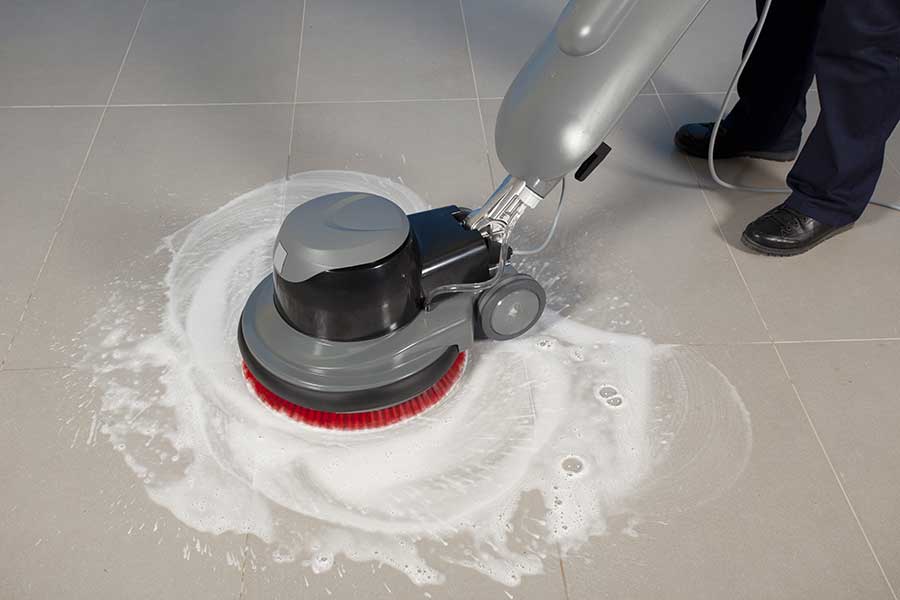 Extending the life of hard floors
When floors are resealed, we create a new protective film over the surface which creates both a physical barrier to repel dirt and grime which makes ongoing cleaning easier and also provides a tough and durable wear layer that extends the life of the floor.  Strip and sealing is ideal for vinyl and lino floors and can also be used to restore the lustre of stone, polished concrete, terrazzo and tiles.
Floor Restoration Preparation – Floor Buffing
Strip and seal is a great way to restore and rejuvenate tired and worn looking floors.  Floors are first vacuumed to remove any surface dirt and debris and then a buffing machine is used to strip the surface, remove scuff marks, scratches, dirt and residues. 
Protective layers – Floor sealing & polishing
Once the floor has been prepared several layers of protective seal and polish are used to rejuvenate the floor.  Each layer is allowed to dry before applying the next layer.  Typically there will be 1 to 2 layers of seal required followed by two to four layers of polish depending on how heavily the floor is trafficked and this will create a stunning, durable new floor finish.
Commercial Floor Scrubbing & Polishing
Regular scrubbing of hard floors is essential to maintain optimum levels of lustre and cleanliness.  Scrubbing is an important element in any regular hard floor cleaning program.  Our team have the full range of scrubbing and buffing machines to quickly and effectively clean all hard flooring surfaces.  From handheld scrubbers to walk behind or ride-on scrubbers, we have the specialist equipment and professional capabilities to scrub and polish floors of all shapes and sizes.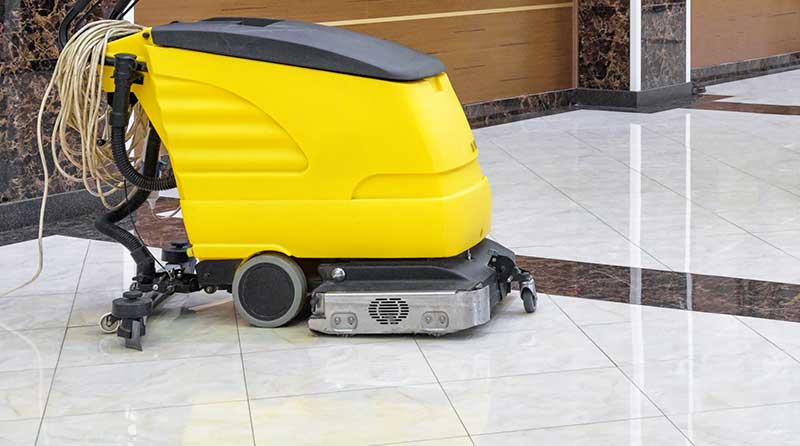 A Professional Approach
Our experienced hard floor maintenance team use rotary pad/brush scrubbers which penetrate deep into the crevices of the floor.  We use the industry-standard colour coding system for floor pads and will work with you to identify the best cleaning pads/brushes and machinery for your needs.  If floor cleaning pads/brushes are too weak, they do not clean effectively but if they are too strong they can damage your floors which is why it is always best to use trained industry professionals to manage your ongoing and periodic hard floor maintenance. 
Commercial Floor Scrubbing
Our specialist commercial floor scrubbing machines are designed to quickly and effectively clean large areas.  They cleanse, scrub and dry in one seamless operation.  Commercial floor scrubbers utilise a dual tank system one to spray fresh water and detergent onto the floor and the other to capture and extract dirty water.  Floors are cleaned by dual rotating scrubbing brushes/pads to give a deep clean and dirty water is vacuum extracted throughout the cleaning process to leave the floors dry and spotlessly clean. 
Tile & Grout Cleaning
Periodic tile and grout cleaning is the best way to keep smaller areas of tiled floor in pristine condition and is ideal for cleaning washroom floors.  The team at Commercial Clean Adelaide will work with you to assess the type of tiling you have and determine the best cleaning product to suit your needs.  Our high-pressure vacuum tile and grout cleaner delivers excellent results, producing noticeably brighter floors and lighter, cleaner grout lines.
Fast & Efficient Tiled Floor Cleaning
Our high-pressure cleaning machines use rotating high-pressure water jets and vacuum extraction to deep clean tiles and grout lines. This allows for a fast and cost-effective clean which requires minimal detergent.  Our specialist equipment scrubs, washes and dries as it cleans resulting in faster cleaning times and minimum downtime or disruption as floors can be returned to service within minutes of cleaning.